Customer Reviews
Write a Review
Ask a Question
Vuarnet goggles are incredible!
Can not wait until winter when I can rock my new Vuarnet ski goggles! Love the magnetic lens changing function.
03/08/2021
Matthew F.

United States
Better than Smith 4D Mag, but wish I could buy replacement lenses!
I bought these alongside the Smith 4D Mag to compare the two and pick my favorite. The Vuarnet goggles blew the Smiths out of the water (I even have a Smith helmet, the Vuarnet goggles fit it much better). I love the full strap and only two plastic clips, which allows me to wear the goggles underneath my helmet without a big clip pressing on my head. The field of view is massive, and the magnetic system is quick and intuitive. I mainly used the low light Cat 1 lens in my first day with these goggles, and it performed great. Only minimal fogging due to my balaclava and popping out the lens was a simple way to alleviate the fog. Hoping for a bluebird day soon where I can test out the reflective lens. The reflective coating on the full light lens has a few microscratches, but nothing deep and impossible to see unless you look super close. Only other negative is the strap has begun to pill and snag in a few places, I wish it was a bit more robust and was harder to fray. At the end of the day, the goggles are a tool not a jewel and I expect them to wear down a bit, but maybe not as early as one day in. The only thing that would make these goggles even better is a selection of replacement lenses, with different tints. I'm hoping Vuarnet will offer replacement lenses soon, and if they do that, these goggles could easily be a 3-5 year investment that withstand the test of time.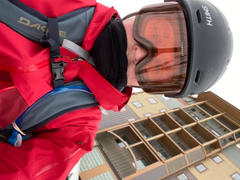 02/22/2021
Charles L.

United States
Amazing and Great to see the brand back.
Obviously the optics are great but I'm so impressed that they just don't fit even with a full mask on.
Receive an email alert when the product will be availaible
Thank you for your subscription to the email alert.